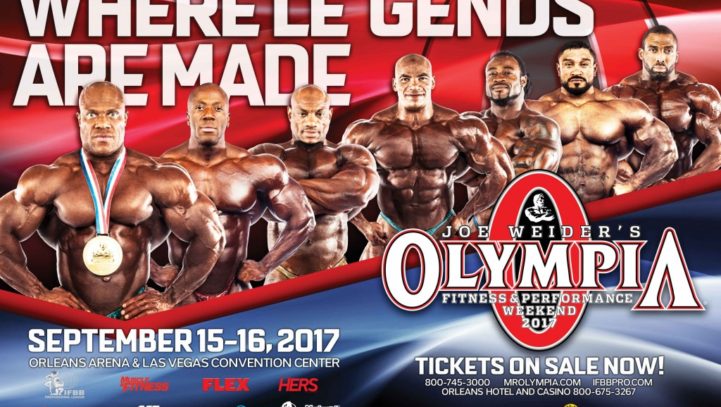 2017 Mr. Olympia Fitness and Performance Weekend; Pre-DSHEA Ingredient List Meeting Set for October 3, 2017; FDA Warns Total Nutrition, Inc.; Rick Collins to Speak at Supply Side West
The latest top stories for the sports nutrition, dietary supplement, and cosmetics industries:
2017 Mr. Olympia Fitness and Performance Weekend
Our firm will once again have a presence at one of the biggest and most prestigious bodybuilding and fitness events in the country. Rick Collins, Alan Feldstein and new firm associate Jay Manfre will travel to Las Vegas for the annual Olympia Fitness and Performance Weekend, which will be held September 14-17, 2017 at the Orleans Arena and Las Vegas Convention Center. While at this year's Mr. Olympia weekend, Rick (who serves as Counsel to the IFBB Pro League), Alan and Jay (who, in addition to being a new associate in the firm's growing Dietary Supplements division, has twelve years of experience in weight training and bodybuilding competitions, and has been a consumer of dietary supplements since the age of 18) will be meeting with supplement companies and leaders in sports nutrition worldwide. In addition, the three will also be attending the event's competitions and contests throughout the weekend, and exchanging ideas about the latest innovations in the health, fitness and dietary supplement industries by visiting the many booths throughout the Expo. If you would like to speak with us during the weekend about the latest trends in sports nutrition, please call us at 516-294-0300 to arrange a meeting or email Rick Collins at rcollins@supplementcounsel.com.
Pre-DSHEA Ingredient List Meeting Set for October 3, 2017
On October 3, 2017, from 8am to 5pm FDA's Center for Food Safety & Applied Nutrition will meet at the Wiley Auditorium, 5001 Campus Drive, College Park, MD 20740 to discuss the development of a list of dietary ingredients that pre-date the Dietary Supplement Health and Education Act of 1994 (DSHEA).
DSHEA requires the manufacturer or distributor of a new dietary ingredient (NDI) or supplement that contains an NDI to submit a premarket notification to FDA. The premarket notification must be sent to FDA at least 75 days before introducing the NDI or supplement into interstate commerce.
The Natural Products Association (NPA) compiled a pre-DSHEA list that contains more than 2,000 ingredients that it believes meet the FDA standard of "independent and verifiable." NPA has been vocal that FDA delayed the sharing of the list and urged its members to contact their Congressional representatives to speed up the process.
The American Herbal Products Association (AHPA) on the other hand took the position that the development of a list of pre-DSHEA dietary ingredients should not have been first priority. Instead, AHPA has suggested over the years that FDA approach the NDI provisions separately, rather than in a single guidance document.
Will this meeting lead to an official pre-DSHEA list accepted and used by FDA? Could this list help the industry better understand what exactly requires NDI notification? We will keep you updated after the October 3 meeting!
http://wholefoodsmagazine.com/news/breaking-news/fda-sets-oct-3-pre-dshea-ingredients-hearing/
FDA Warns Total Nutrition, Inc.
FDA inspected Total Nutrition's Farmingdale location from March 6, 2017 through April 24, 2017. The investigation led to a host of issues including violations of cGMP regulations, which in turn resulted in the dietary supplements manufactured at that location to be deemed adulterated under 21 U.S.C. § 342(g)(1). Following the investigation FDA noted its observations on a Form 483, which Total Nutrition responded to on May 1, 2017.
Further, on June 29, 2017, FDA reviewed Total Nutrition's company website and another website where its products were being sold, along with the labels of 13 products sold on those sites. FDA determined that the claims on the websites and/or the product labels establish that the products are drugs because they are intended for use "in the cure, mitigation, treatment, or prevention of disease."
FDA also noted a laundry list of issues with the products labels not complying with 21 CFR 101.36 and 21 CFR 101.9(c). This is yet another example of why it is critical to engage regulatory counsel to review your labels and GMP policies to ensure compliance with the regulations.
https://www.fda.gov/ICECI/EnforcementActions/WarningLetters/2017/ucm572479.htm
Rick Collins to Speak at SupplySide West 2017
On Tuesday, September 26, 2017 from 3:00 – 3:45 pm, Rick Collins will be presenting "Tales of the Darkside" at the sports nutrition workshop at SupplySide West, sharing insights into the legal and regulatory landscape sports nutrition companies face, from class action and Lanham Act lawsuits to federal regulatory enforcement actions and everything in between. Other workshop speakers include Dr. Doug Kalman and Hector Lopez, MD.
Immediately following, Rick Collins will lead a panel including Bruce Kneller and Tim Ziegenfuss, PhD in a discussion about the lessons the sports nutrition industry can learn from past challenges, covering a range of issues from stimulants to prohormones to SARMs. This panel will provide an opportunity for audience participation on how the industry can avoid such challenges going forward. If you plan to be at SupplySide West, be sure to attend this important workshop!
In addition to Rick, lawyers Alan Feldstein and Jay Manfre will be attending SupplySide West to meet with current and prospective clients in the natural products and dietary supplement spaces. To arrange a meeting with the Supplement Counsel team, email Rick Collins at Rcollins@supplementcounsel.com.
https://west.supplysideshow.com/en/education/workshops/sports-nutrition-workshop.html
In today's regulatory climate, where FDA, FTC, state attorneys general, industry self-regulatory organizations, class action lawyers, and even individual U.S. Senators are leading a patchwork of crusades against dietary supplement and cosmetics companies, it is vital to keep up to date with the latest enforcement efforts and trends. We regularly send out emails summarizing the latest enforcement actions (opt in; we never share our subscription list, and you can opt out at any time at the bottom of each email). Please share them! Learning from others' mistakes is cheaper than learning firsthand what kinds of practices and violations lead to enforcement.
If you have a dietary supplement or cosmetics company and have any questions about your responsibilities under the law, including label claims, labeling requirements, advertising review, CGMPs, or anything else, give us a call anytime at 516-294-0300.