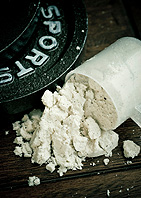 The Sports Nutrition industry is constantly pushing the envelope of innovation. With innovation comes the need to protect it, and ensure that it is compliant with applicable Federal laws and regulations.
One of the threshold issues that sports nutrition companies face when bringing a new and innovative product to market is protecting their intellectual property and being careful to avoid infringing the intellectual property of others, namely patents, trademarks and copyrights. Keeping abreast of changes in legislation and the issuance of Final Rules is critical both for new and experienced companies in the sports nutrition industry. They affect the ingredients you can import, the supplements you can sell and claims you can make about them.
Collins Gann McCloskey & Barry PLLC offers many services to our clients in the Sports Nutrition industry ranging from general business advice to advice on regulatory compliance. Issues of particular concern to sports nutrition companies are marketing products that contain New Dietary Ingredients in compliance with the Dietary Supplement Health and Education Act (DSHEA), ensuring substantiation of the claims made about those products, and recording and reporting serious adverse events in accordance with an Adverse Event Reporting (AER) system.
Some of the many services Collins Gann McCloskey & Barry PLLC offers to our clients include: