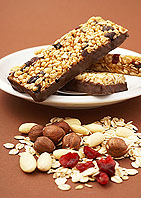 What is a Functional Food?
FDA has specific rules and regulations for labeling "conventional" foods. These rules apply to such things as breads, cereals, canned and frozen foods, snacks, desserts, drinks, etc. The rules not only apply to the information that is required on the label but how you make claims such as "low fat" and "low calorie." Dietary supplements are also considered foods, but have their own specific rules and regulations regarding their labeling.
So, what is a functional food or medicinal food? That term has become widely used in the marketplace but is not specifically defined by FDA. Functional Foods have come to be known as conventional foods that have been fortified with or have added dietary ingredients and make claims about these enhancements.
FDA Labeling Regulations
While a food of any type is regulated by FDA, whether it is a conventional food or dietary supplement, the challenge for both FDA and industry is determining which definition and corresponding regulations is most applicable.
For example, can you market a tea or sports drink with gingko biloba in it and make a memory claim? How about a product that contains ginseng – can you make an energy claim? Can you make these claims, as long as they are substantiated and accurate, when you add these additional ingredients? And if you can, where must you draw the line?
One distinction that FDA has drawn is in adding vitamins, minerals or dietary ingredients to foods that FDA defines as snack foods. In December of 2008 FDA sent a warning letter to Coca-Cola informing them that their new Diet Coke Plus product was misbranded and violated the Food, Drug, and Cosmetic Act. The Coca-Cola Company had attempted to market this product by claiming on its label that it was fortified with magnesium, zinc, niacin, vitamin B6, and vitamin B12.
It appears that Coca-Cola met the definition required to make the claim of "plus" based on the amount of vitamins and minerals it had in its drink. However, FDA took the position that you can't make this claim for a carbonated beverage, because a carbonated beverage is a snack food and it is not appropriate to fortify a snack food.
Therefore, if you are going to market conventional foods with added vitamins, minerals or dietary supplements – "Functional Foods" – you not only have to make sure your claims are accurate and substantiated as you would with any product, but you also need to look at the kind of conventional food you are marketing to make sure it does not cross the line and cause you to receive a warning letter from FDA.