Rick Collins Quoted In Two Articles In "The Tan Sheet"
Rick Provides Insight into FDA Law Regarding Sucanon NDI Notification Decision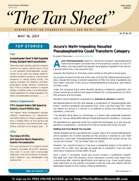 Rick Collins was recently featured in two articles in "The Tan Sheet" – one of the supplement industry's top weekly trade publications that provides in-depth coverage of news related to nonprescription pharmaceuticals and dietary supplements.  Both articles were in response to the FDA's recent decision concerning Sucanon – and touched on the issues surrounding NDIs, nutraceuticals and FDA law regarding the marketing of dietary supplements.
In the first article, "PharmaRoth Looks Abroad With Type 2 Diabetes Product After NDI Notification Decision", Rick provides commentary about the impact of what being denied in the NDI notification process can mean for a company and the opportunities that may then exist from a pharmaceutical perspective, based on the current example of PharmaRoth's Sucanon.  In the second follow-up article on this same issue — "NDI Notifications Are Not Swept Aside As New Drugs – FDA" — which also features commentary from Daniel Fabricant, director of FDA's Division of Dietary Supplement Programs, Rick is quoted as a food and drug attorney commenting on how the FDA law is clear in the case of ingredients being looked at for dietary supplement ingredient status, and the specific timing involved in NDIs for nutraceuticals.  Noting both that "the law is clear" when it comes to an ingredient's use in supplements and that "timing is everything" when it comes to seeking dietary supplement ingredient status, Rick provides important insight for dietary supplement companies seeking legal counsel surrounding NDIs, as well as outlines some key issues concerning ingredients being considered for supplements or investigational new drugs (INDs).
Rick's experience in FDA law and reputation as a leading food and drug lawyer continues to make him an important resource for industry publications covering timely decisions and news in the supplement industry.
To speak with Rick regarding today's most critical topics in FDA law concerning issues such as NDIs, dietary supplement regulatory law and the marketing of dietary supplements, call him at 516-294-0300 or email him at rcollins@supplementcounsel.com.