Rick Collins and CMG Sponsor 2014 NPC Team Universe National Fitness Championships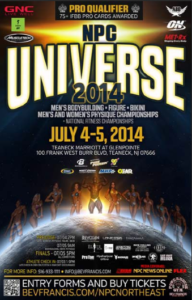 Rick Collins and Collins, McDonald & Gann will once again be sponsoring one of the biggest bodybuilding/fitness events in the northeast, serving as sponsors of the upcoming 2014 NPC Team Universe National Fitness Championships.  The event, which is expected to draw hundreds of attendees/entries, is taking place on July 4th and July 5th at the Teaneck Marriott at Glenpointe in Teaneck, New Jersey.
The Team Universe National Fitness Championship is an IFBB Pro-Qualifier, with more than 75 IFBB Pro Cards to be awarded throughout the event.  Team Universe Men's Bodybuilding Open Class Winners will be eligible to compete on Team USA at the 2014 IFBB World Championships.  In addition to Men's Bodybuilding, the event will feature Figure, Bikini and Men's/Women's Physique contests.
Rick, who is the legal advisor to the IFBB (which currently has 173 affiliated National Federations and is recognized by over 90 National Olympic Committees), will be attending the Team Universe Championships and meeting with industry professionals/competitors throughout the event.  A former competitive bodybuilder himself, Rick also writes a monthly column for Muscular Development magazine, where each month he addresses a different issue pertaining to health, fitness and timely social, legal and cultural issues.
Tickets for the event will be sold at the door on both July 4th and July 5th.   For more information about the 2014 NPC Team Universe National Fitness Championships, and to view a complete schedule of events taking place throughout the weekend, visit www.bevfrancis.com/npcnortheast/npc-universe. In addition, if you have a legal problem, or need insight into the latest information about dietary supplements and the law, email Rick at rcollins@supplementcounsel.com.