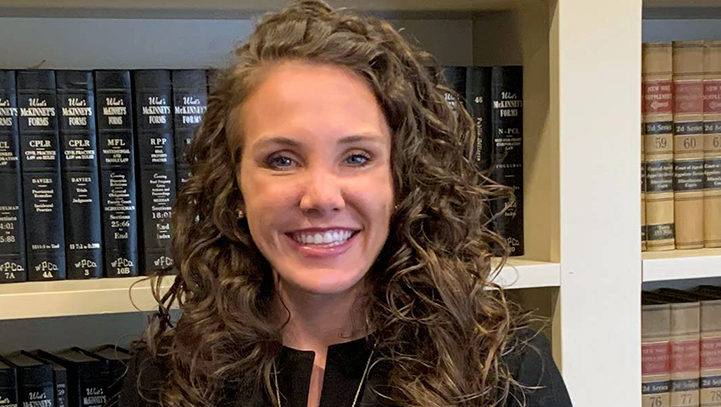 Shannon Montgomery Joins CGMB's Supplement Law Practice as Of Counsel
Collins Gann McCloskey & Barry (CGMB) is pleased to announce that Shannon Montgomery, Esq., has joined the firm's bi-coastal dietary supplement practice group as Of Counsel. Shannon, who is based in Houston, Texas, will be working with Rick Collins, who spearheads the firm's dietary supplement practice from New York, and with Alan Feldstein, Of Counsel to the firm, who manages the firm's Los Angeles dietary supplement practice. Collins and Feldstein co-founded the firm's dietary supplement division nearly 20 years ago, and through the years have continued to expand the practice group, which serves the growing needs of clients in the health, fitness and dietary supplement communities.
Shannon, who concentrates in the areas of intellectual property protection and business law, brings valuable experience in health and fitness business law to the firm, and expands the firm's capabilities in this critical area. She focuses her work on building and protecting brand intellectual property, providing experienced legal counsel to clients in the areas of copyright and trademarks, and helping clients with business advice, contracts and licensing agreements. Shannon will work with Ellie Sladic, CGMB's trademark paralegal, growing the firm's capabilities in intellectual property protection. She also takes over many of the responsibilities of Phil Nash, who left the firm to relocate to upstate New York, including providing contract and licensing counsel and other areas of business law for dietary supplement companies.
Since 2018, Shannon has been in solo practice working with social media influencers and businesses in the health and wellness industry, helping clients understand vendor contracts, sponsorship agreements, foundational business basics, and intellectual property. She has provided insight for fitness brands and creative companies on how to ensure their brands are protected, and brings years of experience in this area to CGMB clients throughout the country.
In addition to her leadership and expertise in dietary supplement law, Shannon is a competitive powerlifter and bodybuilder, and has a longstanding commitment to, and passion for, health and fitness. A competitor in NPC figure and bikini events who has won 3 titles and participated in more than 10 competitions, she brings a unique combination of legal expertise paired with strong understanding and experience in the health and fitness industry to her role as Of Counsel to the firm.
Please join us in welcoming Shannon to our growing dietary supplements practice area, as we continue to provide experienced legal counsel on a wide array of issues in the health, fitness and dietary supplements communities. Feel free to call us anytime at 516-294-0300, or email Rick at [email protected] or Shannon at [email protected] with any questions you may have about dietary supplements and the law – and how we can help.