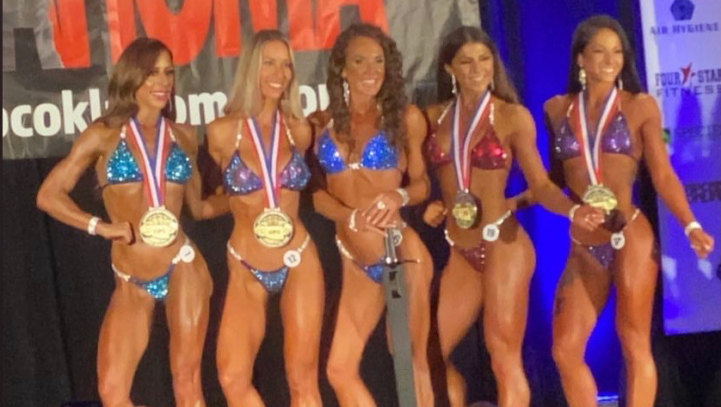 Shannon Montgomery, Esq., Overall NPC Oklahoma Bikini Champion
The weekend of June 27, 2020, our Of Counsel attorney, Shannon Montgomery, Esq., competed at the NPC Oklahoma Championships in the Bikini division. This was one of only two national qualifying NPC shows held in the U.S. since the COVID-19 pandemic forced shows in every state to cancel or reschedule their original show dates.
Shannon began her contest prep on January 6th and no one could have predicted how the next few months would unfold. Preparing for a bodybuilding competition takes an extreme amount of focus and determination under even perfect circumstances. Throw a worldwide pandemic into the mix, and it makes for a tough time. Shannon has taken a four year break from the stage, and once she committed to competing this year she really could not stomach the idea of giving up on her prep. This would be her first time competing in the Bikini division since 2014 after spending two seasons trying to make it as a Figure competitor.
Gyms were closed for almost two months but she powered through with home workouts, and a lot of outdoor running. It was not ideal, but having spent half of her life in the gym, a few months away from her normal workouts and routine did not have a huge impact on her overall physique. Shannon does feel that the toughest part about this 2020 contest prep was the uncertainty of a show date. The original date of May 23rd was cancelled in April, and every substitute contest chosen after that fell like dominos. It wasn't until the last week of May that NPC Oklahoma announced they would be moving forward with the June 27th show. Shannon immediately spoke with her coach and it was decided that this would be the show date.
The weekend finally came, and Shannon could not have been more excited. Battling a pandemic, gym closures, and two herniated discs in her back that decided to flare up towards the end, she made her way to Tulsa, Oklahoma. The day could not have gone better. Shannon stepped on stage in Bikini Open Class A where she won her class and was able to battle for the overall Bikini title. And, she won that, too! Taking home two swords, a tiara, and plenty of swag courtesy of NPC Oklahoma, Shannon is still on Cloud-9. Although she had planned to compete again this season, she has decided to head into off season to allow her back to heal, and get ready to step on the National stage next year and begin the fight for a coveted IFBB Pro card. Keep your eyes on her next season. Good luck to all of the NPC competitors out there sticking it out and waiting for their chance to get on stage!
Meanwhile, Shannon will continue to handle the many daily needs of our dietary supplement industry clients, particularly in the areas of contracts and intellectual property. Shannon, Rick Collins, and the team at SupplementCounsel.com can be reached at 516-294-0300 for all your legal issues.