Rick Collins, Bob Danko and David Torreblanca to Attend One of the Biggest Bodybuilding/Fitness Expos in the Country
Supplement Counsel Arrives at Las Vegas for the 2015 Olympia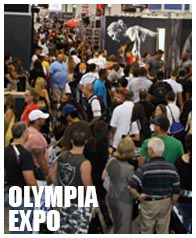 Rick Collins and his firm's Supplement Counsel practice group will once again be attending one of the country's biggest bodybuilding and fitness expos, as they travel to Las Vegas for Joe Weider's Annual Olympia Fitness and Performance Weekend. Lawyers Rick Collins, Bob Danko and David Torreblanca will all be attending the Expo, meeting with leaders in the sports nutrition, dietary supplements, and health and fitness industries at the Olympia Expo's Convention Center, as well as attending many of the weekend's contests. There is so much to talk about at this event. I'm sure the exciting BCAA supplement pills will play a part in the conversations.
The 2015 Olympia Weekend will be held from September 17th – September 20th in Las Vegas, Nevada. The weekend event is expected to draw more than 50,000 attendees from around the world representing fitness and bodybuilding enthusiasts and experts – and is considered one of the industry's biggest events. In addition to the two-day health and fitness Expo with 240 exhibitors, the Olympia features a wide range of fitness and bodybuilding contests, including Men's and Women's Physique contests, the Bikini Olympia, Figure Olympia and Fitness Olympia. The event culminates with the Mr. Olympia contest, considered to be the world's most prestigious and largest event in bodybuilding and fitness. There will also be booths selling the best equipment, workout clothes for men and women and supplements in the industry.
We're looking forward to hopefully seeing many of our old and new friends in the sports nutrition industry there, and would be happy to set up a time to meet with you to discuss the latest news surrounding dietary supplements law and GMP compliance. As we all know, there's a lot going on in the industry right now, and we'd be happy to meet with you personally to discuss current legal guidelines surrounding the marketing of sports nutrition products and dietary supplements today and ways for supplement companies to ensure compliance to all FDA regulations. Seek us out to say hello and arrange a time to meet with us – or if you would like to confirm an appointment with us through our office, call us at 516-294-0300 to arrange a meeting time or email Rick Collins at rcollins@supplementcounsel.com or David Torreblanca at dtorreblanca@supplementcounsel.com.
If you're traveling to the Olympia this year, have a safe trip, enjoy the event – and we are looking forward to seeing you there!