Rick Collins and Alan Feldstein to Attend 2016 ISSN Conference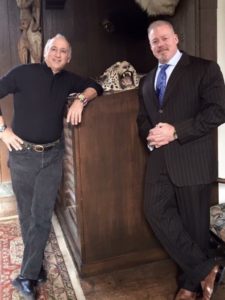 Rick Collins and Alan Feldstein will be joining with leaders in sports nutrition at the 13th Annual Conference of the International Society of Sports Nutrition being held from June 9 – 11 in Clearwater, Florida. Rick and Alan will be meeting with researchers, scientists, sports nutrition company professionals and fitness enthusiasts to discuss some of the latest news and developments in the sports nutrition/dietary supplement industry, and will be attending many of the presentations and workshops throughout the conference.
The International Society of Sports Nutrition (http://www.sportsnutritionsociety.org/) is the only non-profit academic society dedicated to promoting the science and application of evidence-based sports nutrition and supplementation. Rick, a Fellow of the ISSN and a member of the ISSN Advisory Board and ISSN Legal Advisor, has been a frequent presenter at the conference and has moderated a number of panel discussions, and will be joining with other thought-leaders at this year's conference to discuss the industry's top legal issues in the sports nutrition industry.
Rick has been working with Glanbia Nutritionals to bring awareness to improving quality control within the sports nutrition industry. Of particular note at the ISSN Conference will be a lecture by Brent Petersen of Glanbia, who will discuss specific bioactive ingredients that target fat loss and muscle gain for optimized body composition. Studies show that specific dairy derived ingredients, PROLIBRA™ and BIOFERRIN®, support fat loss while maintaining muscle. In addition, CAPSIATRA®, a sweet chili derivative containing dihydrocapsiate have been shown to act as a thermogenic agent stimulating fat oxidation while also increasing the basal metabolic rate. The lecture will be on June 11th from 2 pm to 2:50 pm.
If you are planning to be in Florida for this year's ISSN Conference, please make sure to seek us out to say hello, or call us at 516-294-0300 to set up a meeting at any time throughout the conference. We'd love to sit down and talk with you about some of the legal issues facing sports nutrition companies and continuing developments surrounding current and future FDA regulations and GMP compliance in the dietary supplement and sports nutrition industries.
Hope to see many of you in Florida from June 9th – 11th! For additional information about the 2016 ISSN Conference, and a schedule of presentations/events/exhibitors, click here: http://www.sportsnutritionsociety.org/CONBrochures/issn13thannualc.pdf